Please review the testimonials given to us by our clients. If you have a puppy from us, your testimonial would be greatly appreciated! Please post on our Facebook timeline to submit your testimonial.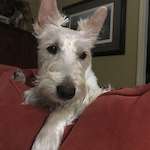 Jenny Ropper Thompson
Rebecca & James are 2 of the nicest people I've had the pleasure to meet. You will not go wrong by purchasing a Scottie from them! Mine will turn a year old tomorrow and I have enjoyed every minute. When I decided to purchase her, Rebecca and James both gave me updates on her progress, her vets visits and plenty of pictures , not only of her, her mother , dad, brothers and sisters. They were nice enough to meet me in my home state of TN, and she had all of the AKC paperwork filled out and sent Nellie home with a goody box. I also follow her on Facebook and have sent pics of my puppies growth. She is a wonderful person and breeder and truly cares about her puppies before and after the sale!!!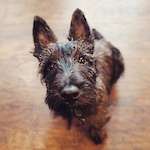 Dr Laura Collins
We have had the honor of purchasing and owning a perfect Scottie from MacFie's Scottish Terriers. We are so in love with our boy, Duncan that we have already been thinking about adding another MacFie's baby to the family in the future!
Rebecca of MacFie's Scottish Terriers has been a pleasure to deal with and a tremendous help in selecting the right puppy. From training to grooming, Rebecca has prepared us for our Scottie baby (as this was our first of this breed!) and she truly knows Scotties inside and out! Her and her Family were so kind to open up their home for us to meet the dog parents and visit with the puppies. This put us at ease that we were getting a great puppy, from a great breeder and we could see the wonderful personalities of the parents. (Argyll Really stole the show with his personality - we love him!).
Duncan is absolutely the most loving, intelligent, with personality plus! Duncan is so smart, he finished his AKC trick dog title and a rally obedience trial - at 16 weeks!
As Veterinarians, it was so important to us to get a healthy pup from a Reputable breeder - and we couldn't have been happier. We proudly give Rebecca and her MacFie's Scottish Terriers our highest recommendation.
We couldn't be more excited to be part of the MacFie's Scottie family, Dr Laura Collins, Dr Bradley Caissie, Savannah, Ga.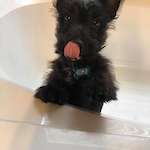 Brooke Brooks
Rebecca and her husband sent us videos and pictures often to share our puppy's progress as we waited to welcome him into our home. He is a loving, crazy, stubborn, fun little man and we are thankful he is in our lives! They even drove down to our town and delivered him. It is clear that he was well loved and cared for. Thank you so much, we would highly recommend this breeder if you are looking for a Scottie for your family.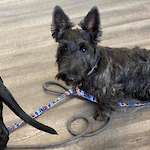 Kristi Fleming Warhurst
Rebecca is super. She kept us informed about our pup as well as promptly responded to questions we had. Her Scottish Terrier puppies are great. We love our Manny!
Brian Buskirk
Rebecca is awesome sends us pics of our new baby and keeping us updated the whole time I highly recommend her.