MacFie's Scottish Terriers
Rebecca has always been an animal lover and holds an associate degree in Animal Science. She has a strong love for the Scottish terrier breed and is devoted in caring and loving to her Scotties. They are beloved family members. Our Scotties are raised and cared for in a loving and family-oriented environment. We strive on not only breeding to the AKC standers, but also for the perfect companion and addition to your families and their needs. We take value and love in placing our Scotties in loving and caring homes that both suites not only there needs but also the needs of their new family. We look forward to sharing our breed with you and your family.
Frequently Asked Questions
Testimonials
Brian Buskirk
Rebecca is awesome sends us pics of our new baby and keeping us updated the whole time I highly recommend her.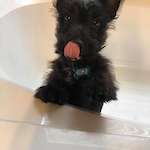 Brooke Brooks
Rebecca and her husband sent us videos and pictures often to share our puppy's progress as we waited to welcome him into our home. He is a loving, crazy, stubborn, fun little man and we are thankful he is in our lives! They even drove down to our town and delivered him. It is clear that he was well loved and cared for. Thank you so much, we would highly recommend this breeder if you are looking for a Scottie for your family.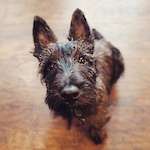 Dr Laura Collins
We have had the honor of purchasing and owning a perfect Scottie from MacFie's Scottish Terriers. We are so in love with our boy, Duncan that we have already been thinking about adding another MacFie's baby to the family in the future!
Rebecca of MacFie's Scottish Terriers has been a pleasure to deal with and a tremendous help in selecting the right puppy. From training to grooming, Rebecca has prepared us for our Scottie baby (as this was our first of this breed!) and she truly knows Scotties inside and out! Her and her Family were so kind to open up their home for us to meet the dog parents and visit with the puppies. This put us at ease that we were getting a great puppy, from a great breeder and we could see the wonderful personalities of the parents. (Argyll Really stole the show with his personality - we love him!).
Duncan is absolutely the most loving, intelligent, with personality plus! Duncan is so smart, he finished his AKC trick dog title and a rally obedience trial - at 16 weeks!
As Veterinarians, it was so important to us to get a healthy pup from a Reputable breeder - and we couldn't have been happier. We proudly give Rebecca and her MacFie's Scottish Terriers our highest recommendation.
We couldn't be more excited to be part of the MacFie's Scottie family, Dr Laura Collins, Dr Bradley Caissie, Savannah, Ga.